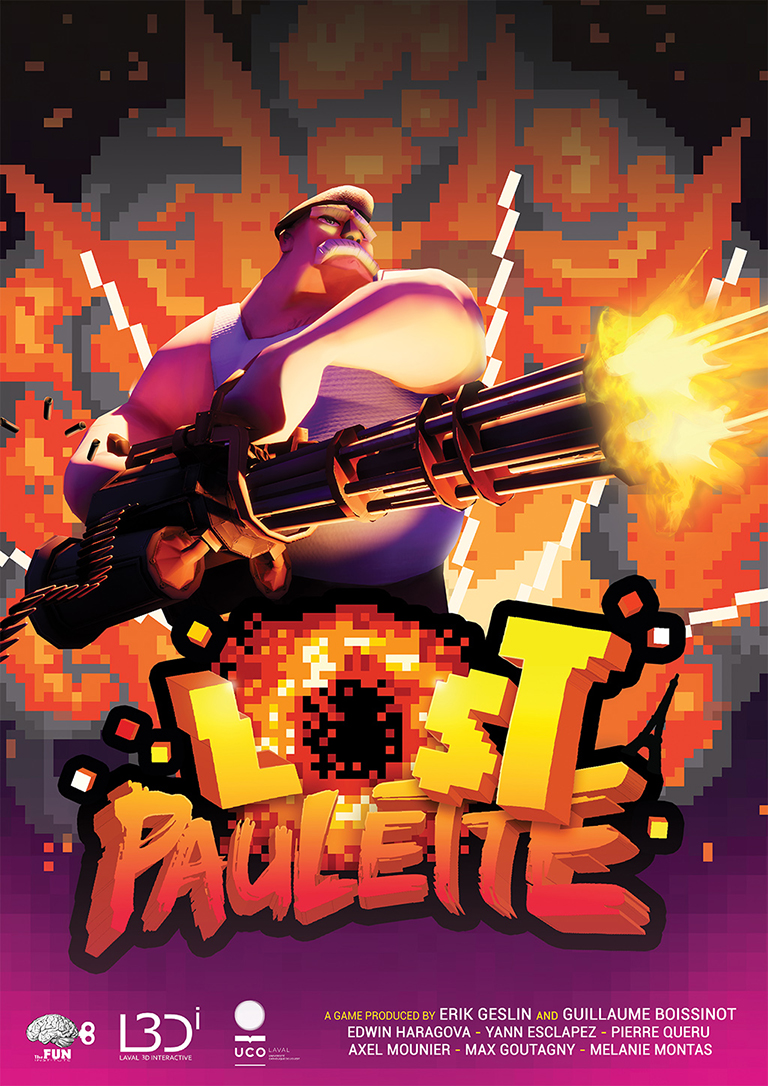 Lost Paulette is a fast-paced run & gun with a 80s retro feeling featuring pixel art 2D and 3D sequences!  The game is made of 2D levels you can stroll in while killing a lot of chinese henchmen and 3D bonus levels where the main character takes a badass weapon and start to destroy all his enemies. This game shares a Metal Slug gameplay with a twin-stick 3D shooter for a dynamic action packed game.
This game is made by The Fun Institute and was made available to play in alpha prototype in 2018 in several game festivals in France. It won the 2nd Public Prize at Stunfest 2018.
In this game you play Maurice, a retired french spy trying to save his daughter Paulette from a Chinese Triad who kidnap her to get her many inventions. The game is divided in three worlds, first you will visit Paris and its sewers, then you will visit countryside China and in the end you'll have to face your arch enemy: The boss of the Triad who's hiding in a secret base in China.
The soundtrack I've made for the game is available
here
.
The story behind the project
We started this project back in school, at Laval 3DI with the initial idea of making a small game that can combine old 80s 2D in pixel art style and modern 3D gameplay. The project was so interesting to work on that it was taken by The Fun Institute, a small studio run partly by junior devs from the school. I joined the studio and we worked on that prototype for almost a year, then we decided to showcase it at several french video game events.
I was Lead Game Designer on this game for the first time, but as in every small team I was involved in several other aspects of the game: level design, programming, QA testing, sound design, music and communication around the game. This experience was maybe the one that taught me the most how to create video games, I learned a lot and I met a lot of inspiring people while doing it.